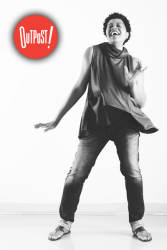 5th Annual Outpost Gala Fundraiser featuring Ms. Lisa Fischer and Grand Baton
Sponsored by Annapurna's World Vegetarian Café; Independent Vehicle Service; K2MD Brand Builders; Los Alamos National Bank; Wells Fargo; Westwind Landscape Construction
Additional support: Albuquerque the Magazine, Albuquerque Museum, City of Albuquerque Cultural Services Department, PrintNM.com, Guild Cinema, La Cumbre Brewing Co. The Oasis, Slate Street Café, Serafian's, St. Clair Winery
Time: 6:00pm Day: Friday Ages: All Ages Price: $25 - $150
This Event Has Ended
Now in its fifth year, Outpost's Annual Gala Fundraiser at the Albuquerque Museum has become one of the most anticipated events of the spring season. The evening features a concert in the Museum's Amphitheater at 8:30pm preceded by a dinner (catered by Slate Street Café), silent auction and raffle for 220 patrons in the Museum at 6:30pm.
After four decades of bringing raw soul to the stage for The Rolling Stones, Sting, Tina Turner and Nine Inch Nails, Lisa Fischer, who was featured in the Oscar winning 2013 film, 20 Feet From Stardom, is emerging as the most inventive and heartfelt interpreter of classic rock songs working today. She has received glowing testimonials from colleagues like Sting, Patti Austin, and Chris Botti, and Keith Richards praised her, "amazing power, energy, and projection." After the success of 20 Feet From Stardom, Fischer ventured out on her first tour in 2014 with her band, Grand Baton, headlining in small clubs, and moving quickly to festivals and concert halls around the world.She performed in a stunning, heart-warming concert at the Lensic as part of the 2016 New Mexico Jazz Festival. The Huffington Post called her "Transcendental!" and the Minneapolis Star Tribune wrote, "her wondrous instrument can seamlessly blend classical, jazz, soul, gospel, rock and folk." Grand Baton, led by Musical Director, French composer, guitarist, pianist and singer-songwriter, JC Maillard, features an organic and unique gumbo of progressive rock, psychedelic soul, and African, Middle Eastern, Caribbean rhythms. Other members of Grand Baton include Aidan Carroll, bass; and Thierry Arpino, drums.
20 Feet From Stardom Will Be Showing at the Guild Cinema in Albuquerque, Tues, Wed, & Thurs, May 16-18, 6pm!
Gala Fundraiser Tickets $150 per person (no member discounts or passes). $75 of the price of admission is a tax deductible donation to Outpost Productions Inc, a 501(c)3 tax-exempt organization.
Concert-only Tickets $50/$30 ($5 discount for Outpost Members & Students. No Member Passes) Please note that $50 tickets guarantee a chair. While there will be many seating options (chairs, stadium, grass) available in the $30 section, a chair cannot be guaranteed.